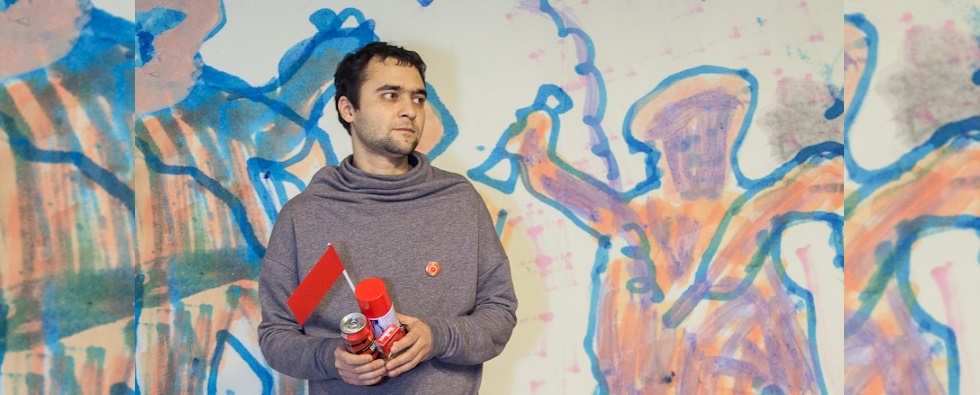 David Ter-Oganyan
1981, Rostov-on-Don
David was born in 1981 in Rostov-on-Don, in the artist Avdey Ter-Oganyan's family. In the early 1990s David moved to Moscow after his father. Studied at Avdey Ter-Oganyan's School of Contemporary Art. In 1997 - 2002 he was a member of the "Radek" art group. From 1997 to 1999 attended seminars of the prominent Russian artist Anatoly Osmolovsky. David participated in his campaign "Against all parties" and actions "Barricade" and "Mausoleum". In 2004 Ter-Oganyan became the winner of the first Russian national contemporary art award "Black Square" with his series of abstract works "Operation". In 2005 he participated in the 32nd Parisian Fair of Contemporary Art "FIAC" with the project "This is not bombs". In 2011 he became the first Russian artist to receive the Henkel Art Award.
David took part in many group exhibitions, including: "Ostalgia" (New Museum, New York), "Modernicon" (Venice), the 10th Istanbul Biennale, the "MANIFESTA 4" Biennale (Frankfurt), the Moscow Biennale of Contemporary Art, "Angry Birds" (Museum of Contemporary Art, Warsaw).
Personal exhibitions of the artist were held in the Multimedia Art Museum (Moscow), in the Museum of Modern Art MUMOK (Vienna, Austria).
The works of David Ter-Oganyan are in the collections of the State Tretyakov Gallery (Moscow), Moscow Multimedia Art Museum, the Russian Museum (St. Petersburg), the Warsaw Museum of Modern Art, in private collections in Russia and Europe.
Lives and works in Moscow.
Photos of the works are provided by Anna Nova Gallery.
Selected Exhibitions
2002 — Amelioration. Klyazminskoe reservoir holiday house. Mytishchi district, Moscow region, Russia
2002 — Made in France. A. Sakharov Museum. Moscow, Russia
2002 — 100% vision. Regina Gallery. Moscow, Russia
2002 — Instead of art. Zverev Center for Contemporary Art. Moscow, Russia
2002 — MANIFESTA 4. Frankfurt, Germany
2003 — Yesterday's news., Styk, Festival Moscow, Russia
2003 — Stop! Who goes there?. NCCA. Moscow, Russia
2004 — Kultura. RadekDisplay Gallery. Prague, the Czech Republic
2004 — tomu ver ty…. Bratislava, Slovakia
2005 — Portrait of the face. M'Ars center for contemporary art. Moscow, Russia
2005 — 1st Moscow Biennale (the main project). Former Museum of Lenin. Moscow, Russia
2006 — Modus R: Russian Formalism Today. Newton Building. Miami, the USA
2006 — 8=8. L-Gallery. Moscow, Russia
2006 — Gate keepers of new. Budapest, Hungary
2006 — Chzechpoint. Prague, the Czech Republic
2006 — Bang-bang. Saint Etienne, France
2007 — 14 group photos. Gallery Reflex, ArtStrelka. Moscow, Russia
2007 — Marriage. M'Ars Center for Contemporary Art. Moscow, Russia
2007 — The 10th Istanbul Biennale. Warehouse No. 3. Istanbul, Turkey
2007 — Progressive nostalgia. CI Luigi Pecchi. Prato, Italy
2007 — Good, bad, evil. Stella Art Foundation. Moscow, Russia
2007 — The Return of Memory. Kumu, Tallinn, Estonia
2007 — Witnesses of the impossible. Moscow Center for the Arts. Moscow, Russia
2008 — Struggle for the Banner. New Manezh. Moscow, Russia
2008 — Young, aggressive. University of Musashino Arts. Tokyo, Japan
2009 — Russian Lettrism. Central House of Artists. Moscow, Russia
2009 — Moskvapolis. Perm Museum of Contemporary Art. Perm, Russia
2009 — Mausoleum of rebellion. Stella Art Foundation. Moscow, Russia
2009 — Get Connected. The Artist's House. Vienna, Austria
2009 — City of winners. Gallery Victoria. Samara, Russia
2009 — The conquered city. Regina Gallery. Moscow, Russia
2010 — Ultimate / Concrete (New Canon). PERMM. Perm, Russia
2010 — WC. Alternative program Cosmoscow. Red October. Moscow, Russia
2010 — Drawing spaces. Russian Academy of Arts. Moscow, Russia
2010 — Modernikon. The Sandretto Re Reubaudeno Foundation. Turin, Italy
2010 — Tape It. Center for Contemporary Art OUI. Grenoble, France
2010 — Conceptualism: Here and There. South-Russian Biennale. Rostov-on-Don, Russia
2011 — On. Off. Arthouse. Moscow, Russia
2011 — Audience Moscow. White Chambers. Moscow, Russia
2011 — The Ostalgia. New Museum. New York, the USA
2011 — Modernikon. The palace of Caza dei Tri-Ochi. Venice, Italy
2011 — Training Alarm. Knoll Galerie, Viennafair. Vienna, Austria
2012 — Things, words and consequences. Moscow Museum of Modern Art. Moscow, Russia
2012 — Highway of Enthusiasts. The palace of Caza dei Tri-Ochi. Venice, Italy
2012 — Warehouse of Contemporary Art. Workshop of Zh. Kadyrova. Kiev, Ukraine
2012 — Happiness / Warm trunk. Loft Rizzordi. Saint Petersburg, Russia
2012 — Angry Birds. Museum of Contemporary Art. Warsaw, Poland
2012 — Without the title. Nabokov and Co. Moscow, Russia
2012 — Génération P. City Hall of Le Kremlin-Bicêtre (near Paris), France
2013 — Nothing of the kind. Gallery Victoria. Samara, Russia
2013 — Draw. Anna Nova Gallery. Saint Petersburg, Russia
2013 — Nothing of the kind. Museum of Moscow, Provision warehouses. Moscow, Russia
2013 — Punkt bez JA. Gallery Arsenal. Bialystok, Poland
2013 — Side Effects. EKKM. Tallinn, Estonia
2013 — In the Heart of the Country. Museum of Contemporary Art. Warsaw, Poland
2013 — Coordinate system. Ermilov-Center. Kharkov, Ukraine
2014 — Backstage. Open studio. Moscow, Russia
2014 — The shadow of doubt. Center for Contemporary Art Garage. Moscow, Russia
2014 — Actual drawing. Russian Museum. Saint Petersburg, Russia