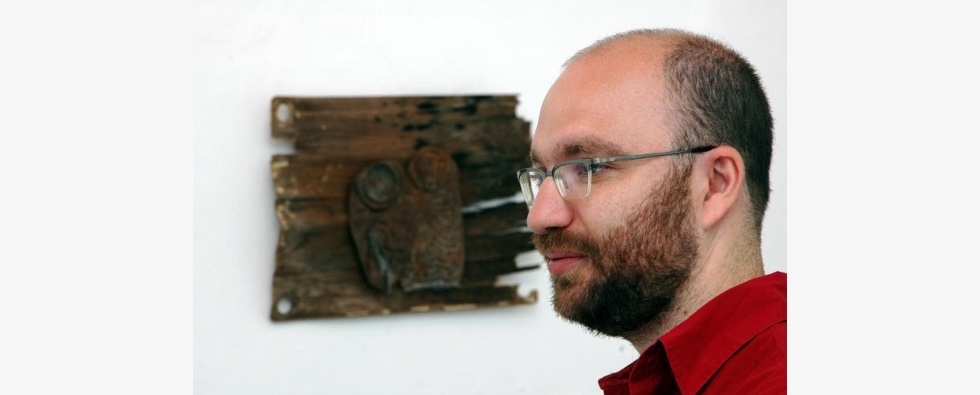 Haim Sokol
1973, Arkhangelsk
Haim Sokol is an installation, sculpture, and video artist whose practice addresses the dramatic social histories of Russia and Eastern Europe. Though many of his works teeter on the edge of fiction and fantasy, Sokol roots his use of literary allusion in historical reality and the legacy of major 20th century uprisings, revolutions, massacres and genocides. By compounding the grim realities of urban life with the complexity of exile and socio-political diaspora, Sokol's works effectively capture experiences of alienation, isolation and disrupted communication.
Graduated from the Hebrew University in Jerusalem (1996 B.A., 2004 M.A.) and the Moscow Institute of Contemporary Art (2007).
Participated in "The School of Kiev" 2nd Kiev Biennial, 1st Indian Biennale (Kochi-Muziris, 2012), the 3rd Moscow Biennale of Contemporary Art (2009) and other exhibitions in Russia and internationally.
Nominated for Innovation price 2008, 2014. Winner of Special Stella Art Foundation prize in 2009.
Teacher at the Rodchenko School of Photography and Multimedia in Moscow.
Lives and works in Moscow.
Persoanl site: http://www.haimsokol.com/
Photos of the works are provided by Anna Nova Gallery and Pechersky Gallery.
Selected Exhibitions
2004 — Window. Small Room Gallery. Elul. Jerusalem, Israel
2005 — Memories about memories. Small Room Gallery. Elul. Jerusalem, Israel
2006 — Breathing Memory. Limbus Gallery. Tel-Aviv, Israel
2006 — Let's talk about migration. International art exhibition organized by the Club
2006 — UNESCO for Arts and Letters of the Department of Achaia. Patras, Greece
2006 — New members-2006. Artists House. Jerusalem, Israel
2006 — Fwd:Re:Form? Special project of the Institute of Contemporary Art within the framework of Art-Moscow. Central House of Artists. Moscow, Russia
2007 — Coordinates. The State museum of Fine arts. Kostroma, Russia
2007 — Space. International Exhibition of Young Artists. Moscow Museum of Modern Art. Moscow, Russia
2007 — Young everywhere. Publishing house Original – National Center for Contemporary Art. Moscow, Russia
2007 — Black square. Exhibition of nominees for the national award in contemporary art. Central House of Artists. Moscow, Russia
2008 — Russian Povera. Museum of Contemporary Art. Perm, Russia
2008 — I Biennale of Young Artists. Moscow, Russia
2008 — @60.artisrael.world. Judah L. Magnes Museum. Berkley CA, the USA
2008 — Cryptomnesia. Relapse. Art-Strelka Projects Gallery. Moscow, Russia
2008 — Earth (in collaboration with Andrey Kuzkin). Stella Art Foundation. Moscow, Russia
2009 — Secret life of bodies. Open Gallery. Moscow, Russia
2009 — Palimpsests. Green Art Gallery. Perm, Russia
2010 — Myopia. Anna Nova Gallery. Saint Petersburg, Russia
2011 — Video only. Zverev Center for Contemporary Art. Moscow, Russia
2012 — Ambivalence. Anna Nova Gallery. Saint-Petersburg, Russia
2013 — Dreams for those who are awake. Moscow Museum of Modern Art. Moscow, Russia
2014 — About history. Anna Nova Gallery. Saint Petersburg, Russia
2014 — 'Spartacus. Time New Romans'. Center of Creative Industries Fabrika. Moscow, Russia
2017 — Paper Memory. In terms of VII Moscow International Biennale of Contemporary Art. CTI Fabrika. Moscow, Russia