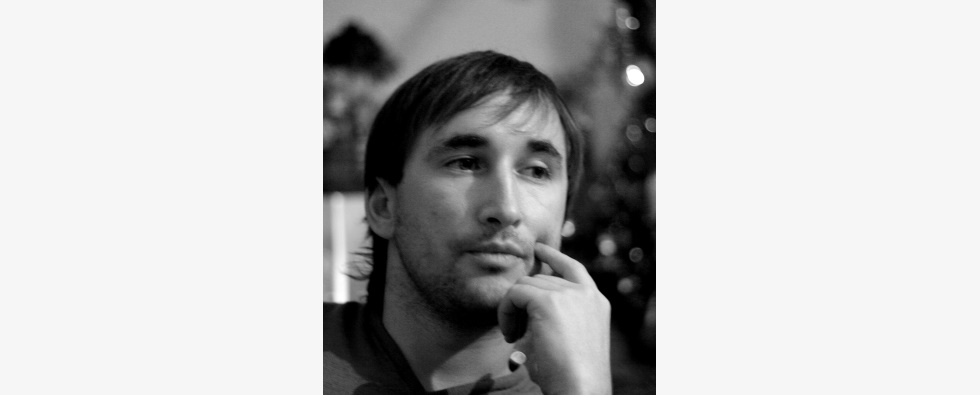 Vladimir Potapov
1980, Volgograd
Until 2001 studied at the Serebryakov Institute of Arts, Volgograd. From 2001 to 2008 studied at the Art Studio of B.I. Machov in Volzhsky town. In 2010 graduated from the Institute of Contemporary Art, Moscow. In 2010 - 2011 attended "Free Workshops" at the Moscow Museum of Modern Art and the "Open MediaArtLab" school in 2013.
In 2009 won the 1st place at the RUSSIAN ART WEEK 2009 festival, in 2013 became the finalist of the international competition "Portrait now" named after Jacob Christian Jacobsen, Denmark. In 2013 he also won the first place in the competition "Monument to the Moscow Tsars" and the second place in the competition "Riot of colors", and became the nominee of STRABAG Art award International.
Works are in the collections of the MOCAK Museum of Contemporary Art in Krakow, the Moscow Museum of Modern Art, the Museum of Street Art in Saint Petersburg, the Museum of Modern Art PERMM in Perm, Sergei Kuryokhin Museum of Modern Art in Saint Petersburg, the Contemporary Art Foundation of Vladimir Smirnov and Konstantin Sorokin, and the Museum of World Funeral Culture in Novosibirsk.
Lives and works in Moscow.
Personal site: http://www.potapovvv.com/
Photos of the works are provided by the artist.
Selected Exhibitions
2009 — Russian Art Week. International Painting Competition, the winner in the Realist painting category. Central House of Artists. Moscow, Russia
2009 — International Festival Traditions and Modernity. Manege. Moscow, Russia
2010 — Not a step back. Guelman. Moscow, Russia
2010 — Archstoyanie. Festival of landscape objects. Nicola Lenivec. Kaluga region, Russia
2010 — On the contrary. Winzavod, the Red hall. Moscow, Russia
2010 — Rostov Biennale for Contemporary Art. Rostov, Russia
2010 — One-way ticket project. III Competition for Young Artists of Anna Nova Gallery, short-list competition. Saint-Petersburg, Russia
2011 — Dormitory area. Open lesson. National Center for Contemporary Art in collaboration with the school №109. Moscow, Russia
2011 — Distortion. Earth. The Agency Art.ru. Moscow, Russia
2011 — The moment of decay. Solo exhibition. Art.ru Gallery. Moscow, Russia
2011 — Workshop 2011: Today and Tomorrow. Moscow Museum of Modern Art. Moscow, Russia
2011 — Impossible Community. Moscow Museum of Modern Art. Moscow, Russia
2011 — 9th Krasnoyarsk Museum Biennale In Depth. Krasnoyarsk Museum Center. Krasnoyarsk, Russia
2011 — Deformation. East Gallery. Moscow, Russia
2011 — Art and Reality. International Forum. Saint-Petersburg, Russia
2012 — ANONIMUS. Museum of Contemporary Art. Perm, Russia
2012 — Workshop 2012: The Rejected reality. Artplay Design Center. Moscow, Russia
2012 — Checkpoint. Erarta Museum. Saint-Petersburg, Russia
2012 — Strabag award prize. Short-list. Vienna, Austria
2012 — Artguslitsa. Ilyinsky, Moscow region, Russia
2013 — UCHRONIA. Special project of the 5th Moscow Biennale. Shchusev Museum, Ruina part. Moscow, Russia
2013 — Do not. Participation in the performance of San Keller within the framework of the Special Project of the 5th Moscow Biennale 0 Performance - Modest charm of the crisis. Moscow, Russia
2013 — The Wall. Center for Contemporary Art Winzavod, the Red hall. Moscow, Russia
2013 — Three Days in October. Museum of Contemporary History of Russia. Moscow, Russia
2013 — Nothing like this. Special project of the 5th Moscow biennale of contemporary art. The Museum of Moscow. Moscow, Russia
2013 — Tradition and Modernity. The symbolic realism. Special project of the 5th Moscow biennale for contemporary art. Art Guslitsa, Moscow region, Russia
2013 — Nowhere. Shiryaevo Biennale for Contemporary Art. Samara, Russia
2013 — A riot of colors. Konstantin Smirnov and Vladimir Sorokin Fund. Moscow, Russia
2013 — The study research. Moscow Museum of Modern Art. Moscow, Russia
2013 — Transparent relations. Triumph Gallery. Moscow, Russia
2013 — Portret now! Erarta Museum. Saint Petersburg, Russia
2013 — The other side of things. Perimeter art-playground. Moscow, Russia
2014 — Carlson. Gallery on Solyanka. Moscow, Russia
2014 — Cats in the manege. The New Manege. Moscow, Russia
2014 — The 15th anniversary of the Moscow Museum of Modern Art, an exhibition from the museum's collection. Moscow Museum of Modern Art. Moscow, Russia
2014 — Exhibition of the nominees for the Kandinsky Prize. Udarnik. Moscow, Russia
2014 — Burlaki: between Europe and Asia. The Factory-Kitchen. Samara, Russia
2014 — Size Matters. Gallery on Peschennoy. Moscow, Russia
2014 — Do not even dream. Gallery RuArts. Moscow, Russia
2014 — It is not a museum. Laboratory of aesthetic suspicion, parallel program of MANIFESTA 10. Saint Petersburg, Russia
2014 — Shumotron museum. Erarta Gallery. Saint Petersburg, Russia
2014 — Lucida Space. National Center for Contemporary Art. Moscow, Russia
2014 — Manifestation. Random Gallery. Moscow, Russia
2015 — Realism of the XXI century. The State Russian Museum. Saint Petersburg, Russia
2015 — In Memory, Moscow Museum of Modern Art. Moscow, Russia
2015 — Vladey auction. All for 100. Moscow, Russia
2015 — Glare on the sun. Triumph Gallery. Moscow, Russia
2015 — Demotivators. Gallery IMHO. Samara, Russia
2015 — The expansion of space. GES-2. Moscow, Russia
2015 — No time. Winzavod. Moscow, Russia
2015 — TRANSMISSION – Young Leipzig Artists in Moscow. Triumph Gallery. Moscow, Russia
2015 — ART BUSAN. South Korea
2015 — Portret now! Erarta Museum. Saint Petersburg, Russia
2016 — Baltic Biennale. The New Museum. Saint Petersburg, Russia
2016 — Urban Dawn. Almaty, Kazakhstan
2016 — II decade of public art Inventing public: void apologia. Volgograd, Russia
2016 — Duet. Volgafest. Samara, Russia
2016 — 19/92. Beginning. Moscow Museum of Modern Art. Moscow, Russia
2016 — Always modern. Art of XX-XXI centuries. Gallery ROSIZO, VDNH. Moscow, Russia
2016 — Grasshopper sitting in grass. Budapest ART factory. Budapest, Hungary
2016 — Exhibition of nominees for the Kuryokhin award. Saint Petersburg, Russia
2016 — Inside. Gallery H.L.A.M. Voronezh, Russia
2016 — Reflection. Museum of Moscow. Moscow, Russia
2016 — Under the pretense of. Center for Contemporary Art Tigrafia. Krasnodar, Russia,
2017 — ART IS fund. Winzavod. Moscow, Russia
2017 — ONE! TWO! THREE! H'art Gallery. Bucharest, Romania
Awards
2009 — The first place of the RUSSIAN ART WEEK 2009 festival (International Painting Competition). Moscow House of Artists. Moscow, Russia
2013 — 1st place in the competition 'Monument to Moscow tsars'. Colta.ru. Russia
2013 — Nominee of the STRABAG Art award International. Austria
2013 — 2nd place in the competition 'Riot of colors'. Foundation of Konstantin Smirnov and Vladimir Sorokin. Russia
2013 — The finalist of the international competition 'Portret now'. Jacob Christian Jacobsen. Denmark
2014 — Kandinsky Prize nominee in the category 'Young Artist of the Year'. Russia
2014 — Exhibition Manifestation - the best exhibition of 2014, Readers' Choice, portal www.aroundart.ru. Russia
2014 — Finalist of the STARTINART. K35 Gallery. Moscow, Russia
2014 — Long-list of the competition for young curators Garage Museum of Contemporary Art. Russia
2015 — The exhibition 'In memory' - best exhibition of 2015 according to the portal artguide.com. Russia
2015 — Finalist of the international competition 'Portret now' named after Jacob Christian Jacobsen' Denmark
2016 — Short-list of the Kuryokhin Award in the nomination 'The best work of visual art'. Saint Petersburg, Russia
Fairs
2010 — XIV International Fair of Contemporary Art ART-Moscow. Central House of Artists. Moscow, Russia
2011 — XV International Fair of Contemporary Art ART-Moscow. Central House of Artists. Moscow, Russia
2012 — International Fair of Contemporary Art ART-Moscow. Central House of Artists. Moscow, Russia
2013 — Artissima art fair. Torino, Italy
2013 — ART-Moscow. Triumph Gallery stand. Central House of Artists. Moscow, Russia
2014 — Vienna Art Fair. Triumph Gallery stand. Vienna, Austria
2014 — Artissima Fair. Triumph Gallery stand. Turin, Italy
2015 — KIAF. South Korea
2015 — Bazaar Art Jakarta. Jakarta, Indonesia
2015 — Art Miami New York Fair. New York, the USA