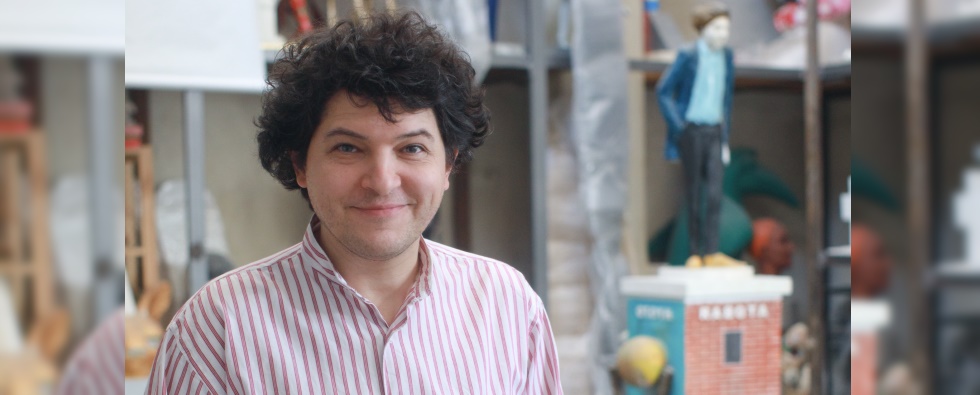 Alexander Povzner
1976, Moscow
In 1997 graduated from the Ilya Glazunov Russian Academy of Painting, Sculpture and Architecture (Faculty of Sculpture). In 1999 graduated from the Moscow State Academic Art Institute named after V.I.Surikov, Faculty of Sculpture. In 2009 graduated from the Institute of Contemporary Art.
Lives and works in Moscow.
Personal site: http://www.povzner.ru/
Photos of the works are provided by the artist.
Selected Exhibitions
2009 — Save as exhibition of drawings. Armenian 13 hall. Moscow, Russia
2009 — The Table. Apartment exhibition. Moscow, Russia
2009 — Land art festival Care. Divnogorie, Russia
2009 — We will continue to act. Voronezh Center for Contemporary Art. Voronezh, Russia
2009 — Art after the end of history. Diploma exhibition of the IPSI, Central House of Artists on the Crimean shaft. Moscow, Russia
2009 — Let me think. 3rd Moscow Biennale of Contemporary Art. Red October. Moscow, Russia
2009 — Present perfect. Armenian 13 hall. Moscow, Russia
2010 — Live Performance Museum. Voronezh Center for Contemporary Art. Voroneh, Russia
2010 — Time, forward? Moscow, Russia
2010 — Interpolare, Ve. Sch - Verein fur Raum und Form in der bildenden Kunst. Vienna, Austria
2010 — Exhibition, Artraum project. Moscow, Russia
2010 — Rare species project. Fabrika Project. Moscow, Russia
2010 — Intimate capital. Curatorial project in the framework of the First Moscow International Biennale of Young Art Stop! Who goes there? Moscow, Russia
2011 — Works. Fabrika project. Moscow, Russia
2011 — Contra mater. Special project of the 4th Moscow Biennale of Contemporary Art, curator Egor Koshelev. Stroganov School. Moscow, Russia
2011 — We build cities. Special project of the 4th Moscow Biennale of Contemporary Art, curator Natalia Samkova. Artpeople Gallery. Moscow, Russia
2011 — Good prospects / Gute aussichten. Special project of the 4th Moscow Biennale of Contemporary Art, curators: Peter Weibel, Simon Mraz. House on the embankment. Moscow, Russia
2011 — From the field of practical knowledge. Special project of the 4th Moscow Biennale of Contemporary Art, curator Stas Shuripa. The GMG Gallery. Moscow, Russia
2011 — A closer look changes the object of viewing. Special project of the 4th Moscow Biennale of Contemporary Art, curator Natalia Tamruchi. Open Gallery. Moscow, Russia
2011 — The Phantom Monuments. Garage Center for Contemporary Art. Moscow, Russia
2012 — Brutto. XL Gallery. Moscow, Russia
2012 — Reloading. Red October Gallery. Moscow, Russia
2012 — It seems like there is something missing. Gallery 21 (winery). Moscow, Russia
2012 — Stalker. VNII METMASH. Moscow, Russia
2012 — The Way of Enthusiasts. v-a-c, Casa dei Tre Oci. Venice, Italy
2012 — Conflictions. Gallery 21; ZIL, Moscow, Russia
2012 — School of Freedom. Paperworks Gallery. Moscow, Russia
2012 — Toasting to the Revolution. Family Business Gallery. New York, the USA
2012 — I was here. Open Gallery. Moscow, Russia
2013 — Three days in October. Special project of the 5th Moscow Biennale of Contemporary Art. Presnya Historical and Memorial Museum. Moscow, Russia
2013 — Museum of Modern Art: Department of Labor and Employment. Exhibition at the 5th Moscow Biennale of Contemporary Art. The State Tretyakov Gallery. Moscow, Russia
2013 — Lenin: Icebreaker. Special project of the 5th Moscow Biennale of Contemporary Art and the project of the Austrian Cultural Season in Russia 2013/14. The Museum of Contemporary Art Lentos, Linz, Austria; Arctic Exhibition Center Atomic icebreaker Lenin, Murmansk, Russia; DEVE Gallery Brugge-Moscow, Russia
2013 — Weightlessness group exhibition. Special project of the 5th Moscow Biennale of Contemporary Art. Rabochiy i Kolkhoznitsa. Moscow, Russia
2013 — TODAYS ART festival. Hague, The Netherlands
2013 — NO WATER TOMORROW. Moscow Museum of Modern Art. Moscow, Russia
2013 — Gone shoppin' be back in 5 min. XL Gallery. Moscow, Russia
2014 — Ceremonial portrait. Studio 50A. Moscow, Russia
2014 — If only... Divnogorie, Russia
2014 — Moscow. Baroque. Triumph Gallery. Moscow, Russia
2014 — Not a Museum. Within the framework of the parallel program MANIFESTA 10. Saint Petersburg, Russia
2014 — Detective, MOSCOW MUSEUM OF MODERN ART. Moscow, Russia
2014 — Time travel LIA. Leipzig International Art Program, artist in residence. Leipzig, Germany
2014 — Shadow of Doubt. Garage Center for Contemporary Art, Moscow, Russia
2014 — BRUTTO 2. Voronezh Center for Contemporary Art. Voronezh, Russia
2014 — ZDES V ETOM DOME V 2014 GODU ZHIL I RABOTAL HUDOZHNIK ALEXANDER POVZNER. Büro für kulturelle Übersetzungen. Leipzig, Germany
2015 — Art experiment. Garage Center for Contemporary Art. Moscow, Russia
2015 — ... Hooray! Sculpture. Winzavod. Moscow, Russia
2015 — Rabochiy i Kolkhoznitsa, Personal case. RIC Exhibition Center. Moscow, Russia
2015 — Open Systems. Garage Center for Contemporary Art. Moscow, Russia
2015 — There is no time. Within the framework of the Moscow Biennale of Contemporary Art. Winzavod. Moscow, Russia
2015 — Progress report. XL Gallery. Moscow, Russia
2015 — Progress report. As part of the Krasnoyarsk Biennale. Krasnoyarsk, Russia
2015 — Department of Labor and Employment. Ekaterinburg, Russia
2015 — Between the Volga and the Danube. Russian Academy of Arts. Moscow, Russia – Bratislava, Slovacia
2015 — The Sculptures We Do Not See. Central Exhibition Hall Manege. Moscow, Russia
2015 — Thoughts aloud. Zverev Center for Contemporary Art. Moscow, Russia
2016 — Drink-Eat. Gallery Too Much. Central House of Architects. Moscow, Russia
2016 — Play-Ground. Ground-Peschannaya Gallery. Moscow, Russia
2016 — Small size. XL Gallery. Moscow, Russia
2016 — Root of the New. Moscow State University, botanical gardens Apothecary Garden. Moscow, Russia
2016 — Interaction: a view of contemporary artists on the collection of Moscow Museum of Modern Art. Moscow Museum of Modern Art. Moscow, Russia
2016 — Primates, the State Darwin Museum. Moscow, Russia
2016 — Alternative Theories of Evolution. The State Darwin Museum. Moscow, Russia
2016 — Little resistance, little pathology. Tapir Kunstraum. Berlin, Germany
2016 — From the ground. Vadim Sidur Museum. Moscow, Russia
2016 — Fools. Vadim Sidur Museum. Moscow, Russia
2016 — Paper only. Exhibition of Graphics. Peresvetov Lane Exhibition Hall. Moscow, Russia
2017 — Triennial of Russian Contemporary Art. Garage Center for Contemporary Art. Moscow, Russia
2017 — The Next Conversation. Galerie ABTART. Stutgart, Germany
2017 — Triennial of Russian Comtemporary Art. Garage. Moscow, Russia
Fairs
2014 — Cosmoscow contemporary art fair. Manege central exhibition hall. Moscow, Russia
2016 — Cosmoscow contemporary art fair. Manege central exhibition hall. Moscow, Russia